THIS IS THE TIME…
For Honouring your Self
For Connection
For Transformation
…it is our privilege to be on this journey with you.
Celebrating 20 years
Happy Mountain's story started 20 years ago after founder Geraldine felt a strong desire to extend her experience in the fitness industry and embrace holistic health and happiness. Training in the Les Mills Bodybalance program and Vipassana Meditation awakened Geraldine's idea of a yoga-based class choreographed to music, incorporating meditation techniques.
Classes have evolved into what they are now and will keep developing. WE are all evolving and forever changing and learning (hopefully!).
This time of uncertainty and change allows us the opportunity to check in and reset our lives, our relationship with ourselves and our world.  With all the challenges, there is still a lot to celebrate in our studio and beyond. It feels different, not just because we are having to follow the Covid Safe Guidelines. It feels like a new level of appreciation for even the simplest things.
We are so blessed to live in this part of the world, and we should honour that. 
It has only been in the last two years that we have had a permanent venue and it has become a special space where we come together as a community to find stillness, to nurture ourselves physically, mentally and spiritually.
"Connection and time shared with members of the community, and having a team who have inspired me and enriched the Happy Mountain home, is such a joy." – Geraldine Loong
Geraldine
Geraldine has been instructing classes and managing the Happy Mountain Yoga Studio for 20 years. Over the years she has remained dedicated and passionate about bringing the community together, be it through yoga, concerts, sound healing, dancing, movies, meditation or guest speakers.
She believes that as humans, we all have a longing to experience a deeper truth about ourselves and with everything, on some level, and we all want to be happy.
Meditation, music and creativity play a big part in her life. Her intention is to keep on learning, while continuing to provide a place where people have the opportunity to keep learning also, while having fun.
Geraldine has trained in and taught yoga for children and teens and is currently teaching Yin Yoga and Happy Mountain Flow in the studio and online. She is available for private classes. Lately Yin Yoga and Meditation are a popular choice for men and couples.
She holds an Assoc.Dip. Health Science, Adv. Dip Arts, and Ongoing Yoga Training.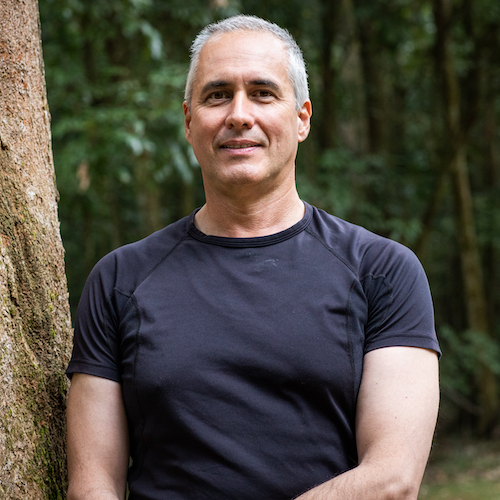 Rick
Rick's yoga journey started 17 years ago when yoga became an excellent addition to an exercise program prescribed for a badly injured back. In 2012 he completed his RYT-200 yoga teacher training and before long was teaching seven classes per week.  He was later introduced to Vipassana Meditation, which he describes as a period of intense self-discovery, and along with yoga, helped create a time of much healing and learning.
Rick's formal training was in the classic Hatha style, while his very early teachers used a Japanese style that is based on the seasons and Chinese Medicine, and is very core-focused.
Rick likes to teach with a focus on core strength, slower movement,  alignment and breathing, often using props such as straps, blocks and blankets.
Rick feels that the mental health benefits of yoga and meditation are probably more powerful than the physical. Having battled lifelong anxiety, Rick believes that meditation with yoga can give you the mental space to help manage that most debilitating disorder.
"Seeing people experience those small moments of peace is a real buzz".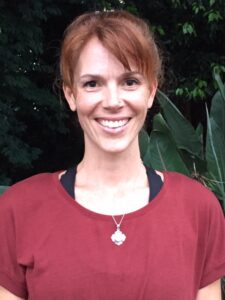 Jennifer Louise
Yoga Instructor
Jennifer began to first explore yoga as a teenager following on from a childhood interest in dance and calisthenics. As with many people's experience, Jennifer was drawn to the physical aspects of yoga and sought to excel in each yoga posture.
Overtime Jennifer began to realise the depth of how yoga can support and harmonise the body, mind and spirit. This led Jennifer to rebuild her understanding of yoga practice and instead of focusing on how deep she can stretch, she now focuses on body alignment, cultivating a sense of inner calm and linking breath with movement within her personal practice and in the classes she guides. Jennifer understands that by bringing attention to the body's alignment in a yoga posture, cultivating the breath to explore the posture, alongside meditation and pranayama a sense of stillness of mind can be found.
Within Jennifer's class you will be guided through meditation, breathwork, flowing vinyasa yoga and then settling into yin style yoga with longer holds in postures for up to 5 mins. After the body is deeply prepared Jennifer will guide you through a Yoga Nidra for deep relaxation.
Jennifer has a background in nursing and completed her RYT 200 hours in 2019.
'Yogas chitta vritti nirodah' Yoga is the cessation of the fluctuation of the mind. Patanjali's Yoga Sutras 1.2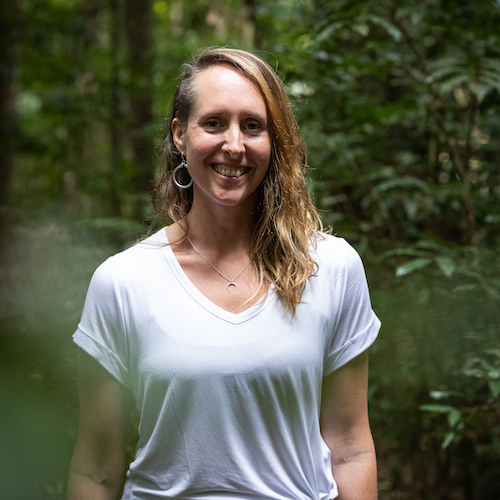 Charlotte
Charlotte started her yoga journey almost two decades ago, practicing a variety of yoga styles, and attending numerous yoga and Vipassana meditation retreats. She began her teacher training four years ago in Indonesia and worked as a yoga teacher in a rehabilitation centre in Thailand. She worked with groups teaching Flow and Yin yoga, and individually with those seeking deeper support with Yoga Therapy, supporting people to reconnect to their bodies, release emotion and quiet the mind. 
Charlotte has recently completed a degree in Psychotherapy and Counselling after wanting to enhance her ability to support people through difficult times in their life. She is particularly interested in how the body stores trauma and how being in nature supports our wellbeing. 
Charlotte is passionate about the benefits of Yin, Flow and Breathing. She is also available for private sessions. 
Please email Charlotte at groundedwiththerapy@gmail.com or phone 0468 544 065.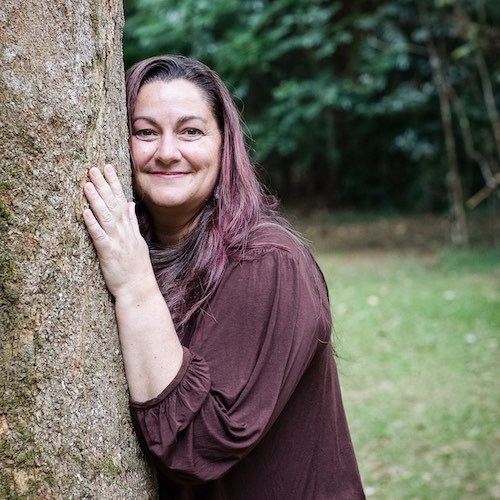 Melissa
Melissa first started training in Holistic therapies over 20 years ago & uses her knowledge, skills & intuition to assist clients & students in reaching their healing goals. She brings a deep understanding of the mind, body, emotional connection to all her sessions & workshops and holds the space with groundedness & compassion which allows her clients & students to feel supported & safe. Her down to earth nature, positive outlook, ancestral lineage & inner wisdom, help to create an exceptional healing experience. For 14 years she has trained in the Soul Voice® Method, a therapeutic voice & sound healing modality. She works with both individuals & groups and teaches others how to use their own voice for healing.
Melissa has decades of experience, qualifications & professional training in many different modalities but is best known here at Happy Mountain for her Sacred Sound Immersions around the full moon every month for the past 3 years. During the Sound Immersion, Melissa tunes into both the individual and collective energy of those present, she intentionally uses only the power of her voice to shift & release energetic blocks, pain, tension & stress in the body. It is a profound sound meditation unlike anything you have experienced. You will journey deep into a blissful, meditative state of relaxation through alchemical soundscapes. You will leave feeling deeply relaxed, more connected to yourself & rejuvenated. Melissa's voice has been described as deeply resonant, Shamanic, haunting, angelic & otherworldly.
Roo
Roo Mackerras is a local professional singer & musician who when he turned 50 vowed to find a really fun way to exercise regularly.
After stumbling on the idea of Dancing in the Dark five years ago, he declared that he had found what he was looking for and he has used his vast knowledge of popular music from 1950s to today, to share this idea with anyone else who loves to dance. He has become by default a skillful Retro DJ.
Roo and his regular attendees think that Dancing in the Dark is the Funnest Fitness Ever.