Welcome to Happy Mountain
Happy Mountain is a cosy yoga studio located in the beautiful hinterland area of Ballina/Byron.
What began as a thought 21 years ago has been realised as a sanctuary where members of the community come together to find balance and wellness of the whole Self.
A peaceful haven to connect with one another, and within; to experience strength, empowerment, resilience, and inner peace.
This is the time.
Happy Mountain would like to acknowledge the traditional custodians of this place, the Bundjalung Nation. Wollongbar was an area that was shared by the Widjabul-Wiabul people from Lismore and surrounds, and the Ngyanbul from Ballina and Cabbage Tree Island. We thank these people for taking such great care of the land which we now enjoy.



About Happy Mountain
The team at Happy Mountain bring you years of experience in many aspects of yoga and holistic therapies, from the more gentle Yin, breathwork and meditation, to energising flow and core strength classes.
Along with regular Sacred Sound Immersion and Dancing in the Dark events, you will find a class to make you feel nourished in body, mind and soul.
Connect with the Happy Mountain team and be inspired.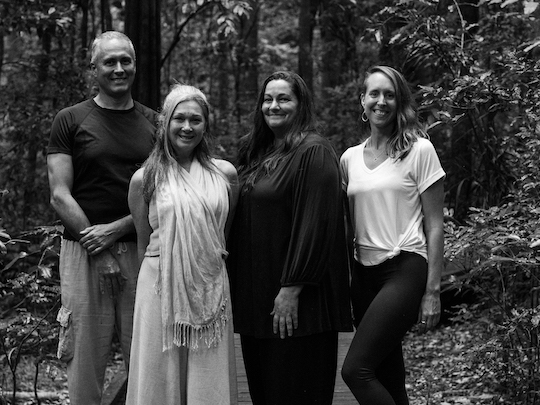 Testimonials from students
The couples class (Yin Yoga…Saturday 11am) has been a lovely experience for both of us. It gives us rare, quiet, Yin time together in our otherwise very busy and noisy daily lives. We come away from our session feeling like newly refreshed and reconnected people.
Liz and Ben Eric and I regularly attend Rick's yoga classes. We find that his very pleasant manner and professionalism makes for an enjoyable class that has clear health benefits.  His classes are designed to be protective of muscles and joints and paced in such a way as to provide protection as the intensity builds over the course of the class.  We appreciate the fact that Rick attends to everyone's needs and can give suggestions to minimise risk of danger, or alternative poses, and he expresses with clarity the goal with each pose.  Rick is present, and approachable and much in tune with what each person needs and where their limitations lie.  We would highly recommend Rick's classes for beginners through to experienced people and all ages.
Claudia "The sound bath was amazing! There were parts my whole body was softly vibrating & then my legs & arms would spasm. All of a sudden, my jaw just let go & I could breathe so easily. My jaw has not felt that unclenched ever! Afterwards my body felt so heavy, relaxed & beautiful. So amazing! I'm a bit blown away by the results."
Anon Happy Mountain is an oasis of calm in a busy life. It is a place where all are welcomed and valued, no matter the level of fitness or age. An intelligent blend of music accompanying a subtly changing routine of achievable exercises designed to both challenge and relax the body ensures success for all.
Margaret I initially began practicing yoga at Geraldine's classes back in 2001. Eight months later I was involved in a horrific motorcycle accident that left me with multiple spinal injuries, various other broken bones & a traumatic brain injury. It was then, I discovered the vital importance of Gerri's 'Happy Mountain' sessions not only for the mending/improvement of my broken body, but also continued health of mind.
Thank you for your continued & valuable support over the years Geraldine.
Scott This oasis of peace is soul-renewing! Gerri's meditative and unique yoga classes surpass other yoga I have experienced. Be prepared to enter a temple of healing and come out feeling relaxed, invigorated and alive!
Amata I've been going to Happy Mountain yoga classes for so many years I have lost count, and they have become a huge part of my personal well being. They are held in a beautifully designed space and are choreographed to ambient uplifting music, so they are a multisensory experience.
Gerri also creates a wonderful connected feeling by doing a daily reading at the beginning and a guided relaxation at the end. Not only do I feel stretched and toned physically, I also feel it clears, clarifies, and resets my mind. I always go back into the world from these classes with strength in my posture and a lightness of being.
Michelle